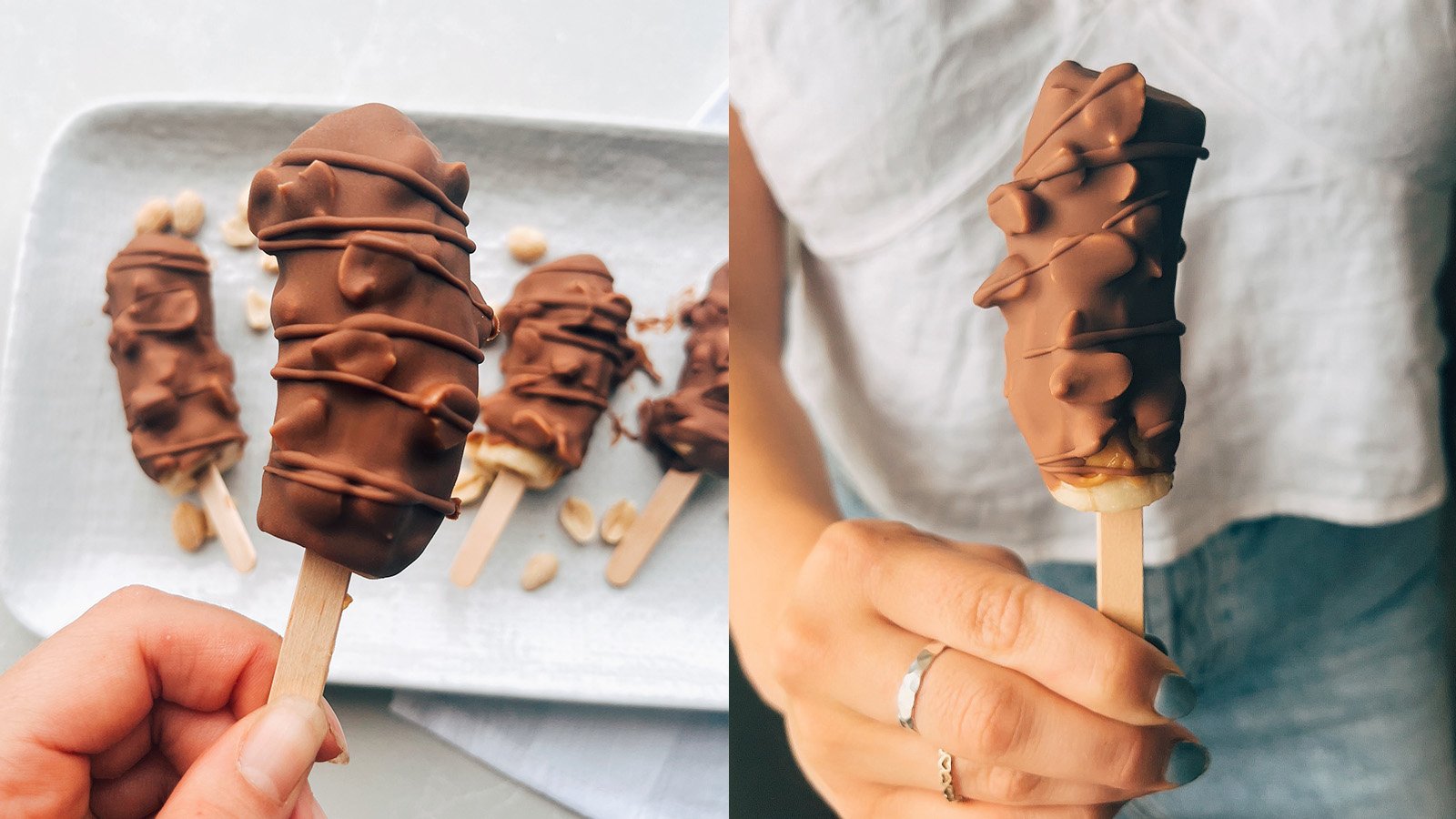 These healthy choccy banana pops taste like frozen picnic bars made with nourishing, wholesome ingredients good for both your body and soul.
These are a deliciously easy frozen dessert, made with ripe bananas cut in halves, peanut butter, peanuts and dipped into melted chocolate.
Adjust the freezing time to allow the banana pops to resemble an icecream texture and you can keep them low in sugar by choosing a low sugar chocolate. These tasty banana pops are guaranteed to be approved by the entire family, including the kids.
serves -6
Ingredients:
3 ripe bananas

Handful of chopped peanuts

2-3 tbs natural nut butter of choice (I used peanut butter)

1 block of chocolate (approx 100g)

1 tsp of coconut oil- optional
Directions:
Prepare a tray with baking paper. Cut the ends of your bananas off and then slice them in half

Put your bamboo skewers or popsicle sticks through the middle of the bananas and place in the freezer for 1 hr.

Spread the nut butter over your bananas. Use a knife to smooth it on softly, so that the bananas don't fall off the sticks. Sprinkle over or roll your banana pops in the peanuts.

Place the banana pops back on the tray and freeze for another hr or so until frozen.

Melt the chocolate via double boiling or microwave with the coconut oil.

Dip the banana pops in the melted chocolate, or drizzle the melted chocolate over the banana pops. Whichever method works for you! The cold pops will make the choc harden quickly , you can either enjoy straight away or place them back in the freezer for 10 mins.

Keep the leftover pops in a sealed container lined with baking paper and store in the freezer.
Enjoy :)
Noa (@noashealthyeats)