Sol Searching in Mexico with Esti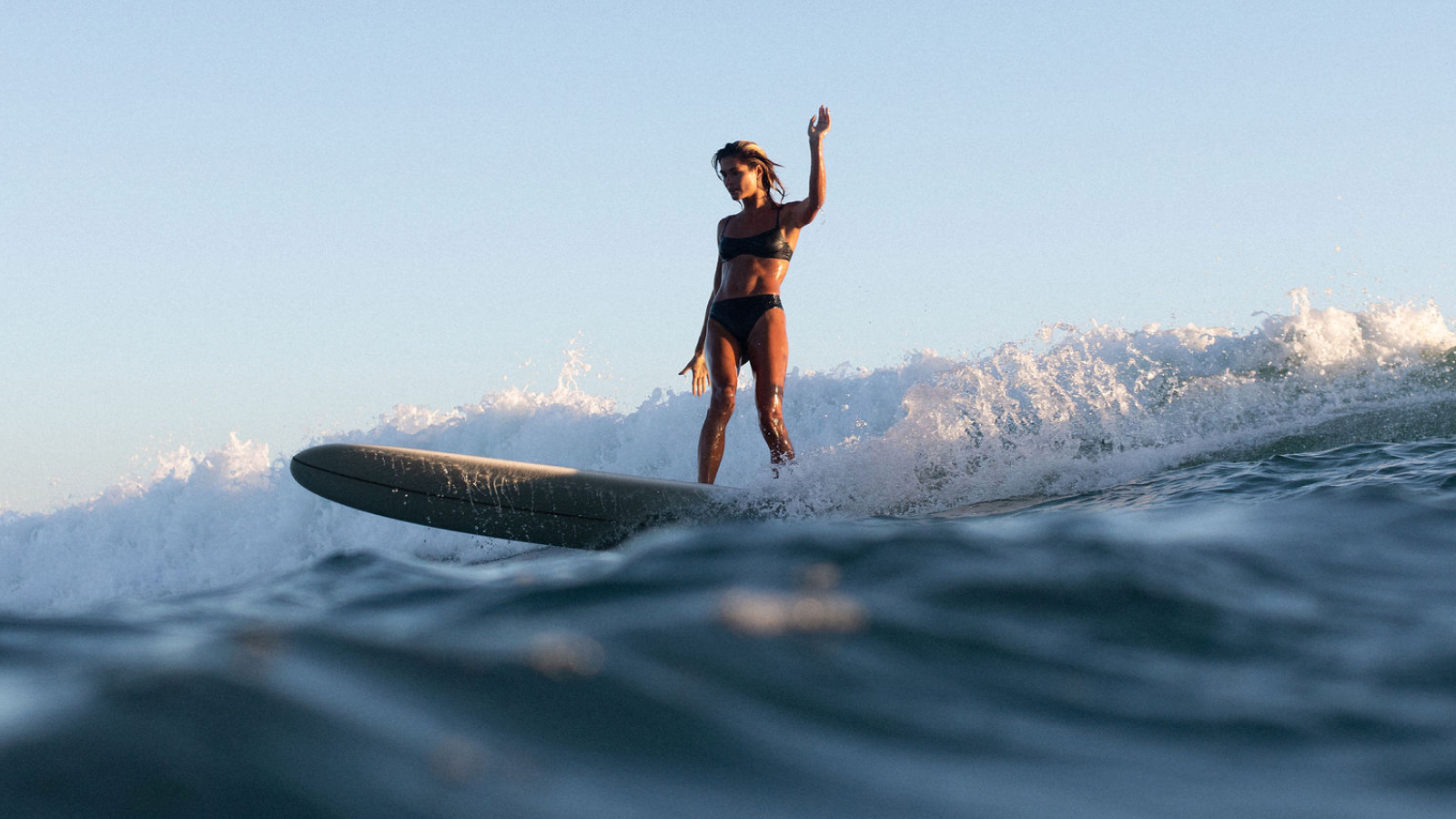 Where the sun touches your skin, waves are endless and the coco frio... We caught up with Esti (@estizubi_) and the lifestyle photographer, Riemkje Poortinga (@riemkjepoortinga), for an inside scoop on their recent days in Mexico's paradise.
Read more about Esti in our Q&A below...
Where did you go in Mexico and how was the surf?
I have been travelling with my boyfriend through the Mexican Pacific coast since September 2021. We started the trip in Oaxaca, surfing the perfect but crowded rights of the region. Some of them are controlled by surf camps, so you can't surf unless you pay a substantial amount of money. In that area, we also visited Puerto Escondido, famous for its massive barrels. I didn't try to surf there, but it was amazing to see.
After that, we flew to Tijuana and surfed some of the best spots in North Baja: San Miguel, K38, Tresemes, Baja Malibu... It was December, so the water was freezing.
Then we flew to Puerto Vallarta and drove to Pascuales, a tubular wave for advanced level surfers that I could only enjoy the small days.
La Ticla, a wonderful and chill town on Michoacan coast that has a nice beach break and a pointbreak, was our next stop. Driving south from la Ticla to Saladita, we stopped in Nexpa, where we enjoyed its powerful left, and in Maruata, a charming place that we will remember forever. Saladita, a longboard paradise, is perfect but crowded long left.
Obviously, we've also been to Sayulita and Punta Mita area, where there are many different kinds of waves, especially good for beginners and longboarders.
What was your day-to-day looking like?
Our daily routine changed depending on where we were, but surfing has been our main activity. After the morning session, we usually had a nice breakfast in a local restaurant (burritos, huevos a la mexicana, chilaquiles...) and then read a book, rest or do yoga. When the wind slowed down, we used to surf in the afternoon. After sunset, we used to hang out and have dinner with friends we met during the trip.
No doubt, buying a van was the best decision to move freely: it became our little home anywhere we wanted to visit.
How is the local surf community?
It's true that, depending on the surf spot, the localism can be hard, but, if you are respectful and kind, the local surfers will usually be welcoming. In some places, the level and skills of the surfers are amazing. For example, I really enjoyed surfing in Saladita with the amazing longboarders Ilianet Núñez and Patty Yornelas.
Any other activities you recommend to do there?
The marine fauna in the Pacific is very rich and you can fish everywhere, by boat or just on the shore break. There are a lot of natural reserves around where you can see crocodiles, different species of birds and other animals. We really enjoyed a secret place close to Puerto Vallarta where you can ride a horse to amazing waterfalls.
Get to know more about Riemkje and read her Q&A...
Tell us more about your travels in Mexico with Esti and where did you stay?
I'm always curious about the next beach after the beach that I'm on... So I was pretty stoked to travel with Esti along the coast of Mexico. As we moved southwards, we explored different beaches along the road between the famous longboard surf spots, Sayulita and La Saladita. We had a campervan and a tent, so we had the freedom and possibility to stay at remote beaches in some insanely beautiful locations. On our mission to find the best waves to shoot surf action in the water, we found stunning beaches and good surf.
Best beaches and places to shoot there?
Some beaches that we didn't like for surfing, like Maruata, turned out to be amazing photoshoot locations! So the best beaches and places to shoot were pretty much everywhere we travelled to.
How would you describe your style when it comes to photography?
My photography style is clean, dreamy, natural and colorful. What I do is lifestyle & fashion photography for brands or editorials in magazines. It's inspired by the beach and surf lifestyle. I shoot mainly female models/surfers and always outdoor with natural daylight. I've always had a slightly soft retro film look in the way I edit my photos. People already told me that, long before shooting analog was a returning trend. I realized it was true when I started using film and saw how much the analog photos had the same look as my edited digital images. Now I love working with film. For example, these are 3 images of Esti on a 35mm Kodak Portra film, shot with my analog Canon camera.
What is your daily inspiration?
I get my ideas for photos when I explore new places, that's why I like travelling so much. I get inspired when I am surprised by sudden good light, matching colors, stunning nature or something else that I can build a visual story around. That in combination with beautiful people, the models, and the style of the clothes I have to shoot. Sometimes I see one detail and I can already picture a complete campaign shoot in my mind. When that happens, I get stoked to organize everything to make the perfect picture. So my daily inspiration is lots of travelling, driving and wandering around.
With surf photography, it's pretty much the same. I get inspired by surfers with an elegant style like Esti. I pay attention to the quality and direction of the light and how the colors change during the day to make it match the swimwear. I prefer to not only shoot good waves but also to have an interesting backdrop that tells a bit more about the location. My daily inspiration comes from elements that are somewhere outside and I play around with until they click to form the perfect picture.
Photos by Riemkje Poortinga (@riemkjepoortinga) / www.r-time.nl