Billabong Bloodlines is about developing youth surfing and helping surfing's next generation on their path to the pro tour. This year, we took 5 up and coming surfers to Tahiti to train and grow within their surfing careers.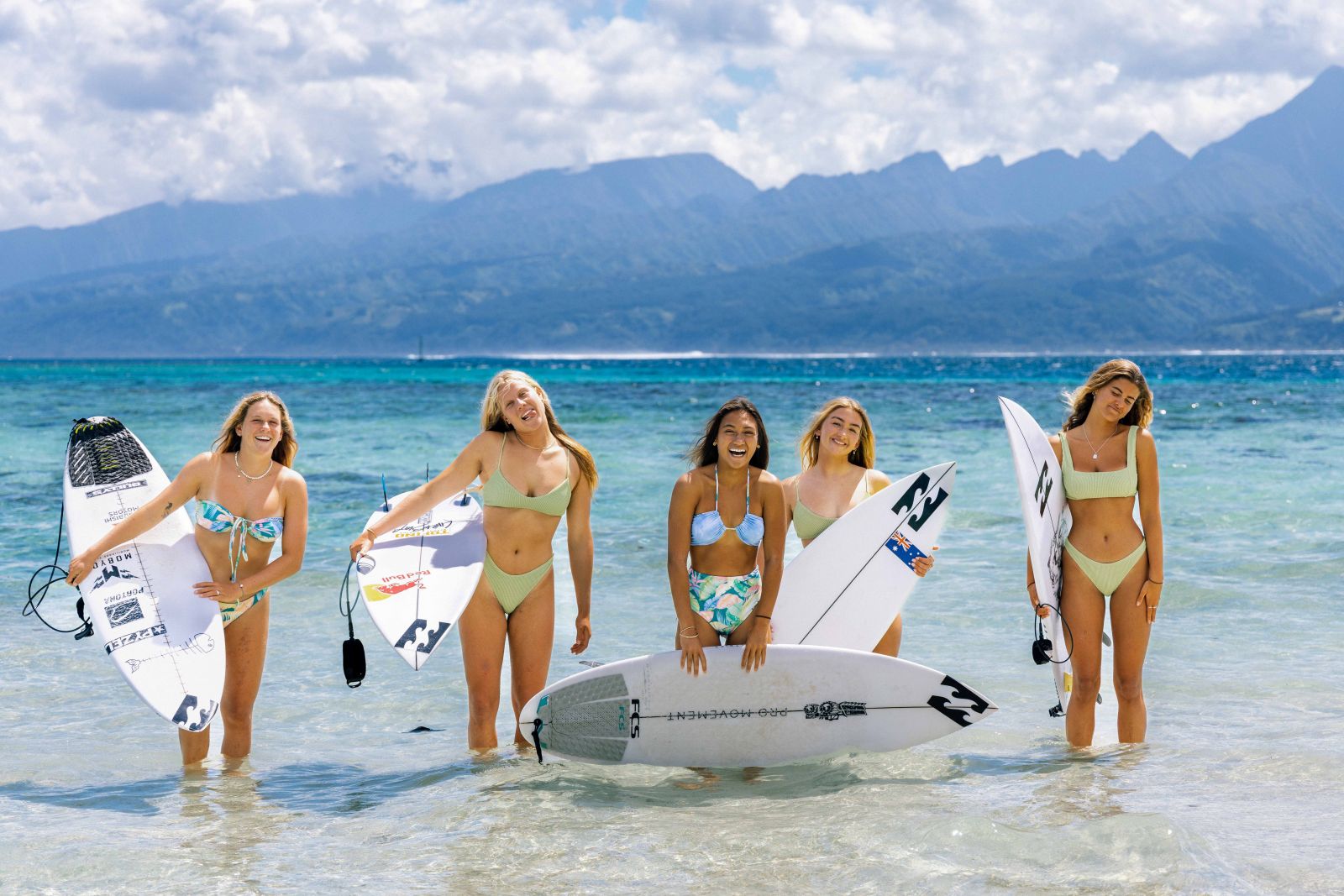 What was your favourite memory of Tahiti?
Lil: GETTING BARRELLED for sure!
Bella: My favorite memory from Tahiti is probably eating the local food which was amazing! And getting the boat everyday to go surf with the girls and listening to music!
Sanoa: It is so hard to pick a favourite memory from Tahiti. The food the waves the topography of the island and the crew we were with was all so amazing. My favourite surf memory from Tahiti would have to be from a session we had at Teahupo'o about halfway through the trip. It had been rainy and windy for the first few days so this was our first fully clear day. The waves were quite small but perfect for learning and I got some very fun waves and my first few tubes of the trip. we all surfed all day and it was so fun from start to finish.
Juniper: The whole trip!!
Isi: My favourite memory of Tahiti is the trip back from moorea. All the girls were In the boat and we were blasting Lana del Ray songs, while singing and laughing. The view made it even better
What board did you ride in Tahiti?
Lil: I rode my 5,8" Thomas '3 to the beach' and my 5,6" JS
Bella: I rode a 5'6 Highline Pyzel
Sanoa: The board I rode the most in Tahiti was an OKAY model from Sharpeye.
Juniper: I rode my 5'8 stcy lab rat
Isi: I rode the channel island fever and the Mayhem Driver 2.0
What was your favourite Billabong piece to wear in Tahiti?
Lil: My favourite price were the sky blue long John wettie, the front tie reversible top, as well as the matching high wasted bottoms.
Bella: I really loved the floral wetsuit!
Sanoa: My favourite Billabong piece to wear in Tahiti was the 1/1 Salty Dayz Light Long Sleeve Spring Suit. this was my favourite because it is so comfy to surf in and you don't have to worry about it moving around while you surf. it also protected me from the sun. It is so soft and stretchy and it does not even feel like you are in a wetsuit.
Juniper: Summer high Maui rider bikini
Isi: My favourite billabong piece to wear in Tahiti was the textured light olive green bikini (not sure of the exact name) and the matching Maui rider style bikini bottoms
What did you learn in Tahiti that you were able to bring back into your training back home?
Lil: I learnt more about how to hold my line to get barrelled, respect out the line up's and some local language
Bella: I learned to paddle stronger, and learned that hearing other people's stories and what they have to offer is super important! and learned to help each other
Watch the full video now!